Sharp edges cut quickly and smoothly so less hand pressure is required. Can be stopped and started as the surgeon requires. Non-skid tip prevents the perforator from sliding on the skull during start-up.
Inner drill forms a bone pad to protect the dura.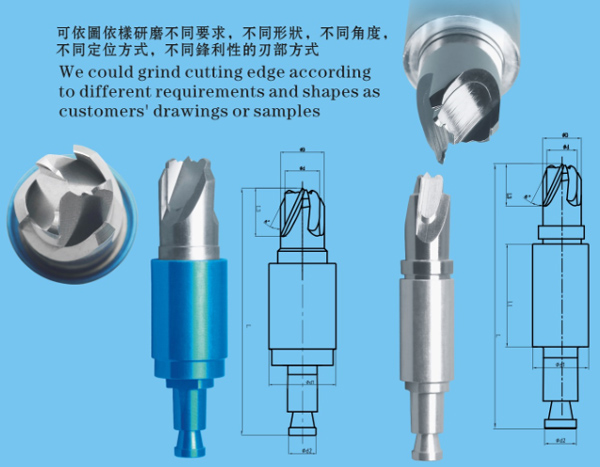 (High wear-resistant & CNC sharp edge & high precision with)
We could grind cutting edge according to different requirements and shapes as customers' drawings or samples.

Production of cutting edge and shank could be as customers' requirement , We produce with different materials and colors different structures and shapes.
Handle interface method:
1. can do different colors aluminum handle
2. can do different colors titanium handle
3. can do different colors of medical plastic /Resin PPSU / PEEK handle
4. can do stainless steel series handle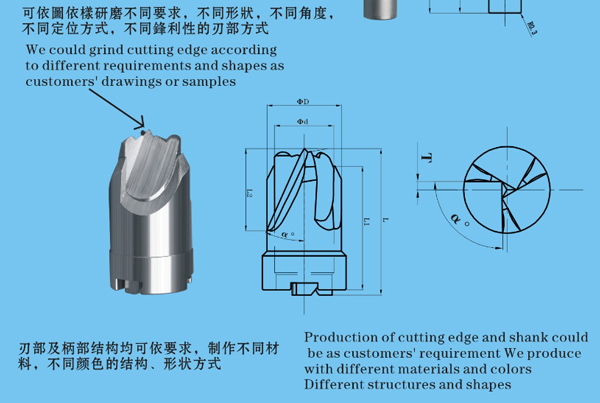 A closed craniocerebral harm is associated with quick or extended consciousness, headache, nausea, and vertigo. If severe, there might also additionally be mental, respiratory, and circulatory issues mixed with a range of neurological symptoms. Such disorders are no longer said in brain concussion. With cerebral herm orrhaging, there are signs and symptoms of compression (two-stage loss of focus with a ' lucid' interval, country of inhibition, extended headaches). If the base of the cranium is fractured, signs of infection of the meninges show up against a historical past of severe widespread intelligence symptoms. Treatment may be conservative or surgical. Conservative cure is possible in cases now not related to compression of the brain. Bedrest and ache relievers are prescribed for cranium fractures with no signs of Genius injury and for mild talent concussions and contusions. The more severe cases name for spinal faucets and pills that minimize intracranial pressure. Surgery is required for skull fractures with bone depression, Genius compression through an intracranial hematoma, and growing brain edema. Surgery involving opening of the cranial cavity is performed below nearby or frequent anesthesia.
Open craniocerebral trauma occurs less regularly than closed trauma in peacetime. It might also be nonpenetrating (without harm to the dura mater) or penetrating (with harm to the dura mater). The medical signs of everyday cerebral problems are less pronounced than in closed trauma, but there is a whole lot greater threat of infection or development of meningitis, encephalitis, or different complications. Treatment is only by surgical operation (surgical cure of a wound, trephination, and plastic surgical treatment for large defects in bone).
The sequelae of craniocerebral trauma may additionally be ailments of the brain, such as arachnoencephalitis, psychological disorders(for example, twilight state), and, in the long term, asthenia, encephalopathy, stressful epilepsy, and intellectual deficiency.
Danger and dying are symbolized via the skull and crossbones, which is often found on labels that warn of poisonous contents. The cranium and crossbones were once also adopted by using pirate ships and the Hell's Angels. Each Halloween the skull—with or except the crossbones—is nevertheless used to warn of chance and death.
The bones and cartilages of the vertebrate head which structure the skull and the face. (metallurgy) A layer of solidified metal or dross left in the pouring vessel after the molten metallic has been poured.